At AiQ we provide innovative aviation consulting, including operations, efficiency, optimisation, modelling and forecasting services, to help you solve the most complex challenges. We look to the future of aviation, enabling clients to understand and realise the impact of new disruptive technologies and business models, whether for investment decisions, infrastructure master planning & design, improving sustainability, achieving net-zero carbon, or simply improving operational efficiency.
Our award-winning team assess the entire aviation system from an operational, forecasting, demand, capacity or environmental perspective. This can include modal connections, aircraft, passengers, baggage, transfer systems, ground support equipment and associated ancillary equipment needs.  We realise a problem, analyse, develop models and provide recommendations to solve the most complex challenges. Giving you the big picture as well as highly detailed insights and analysis.
Our deep operational and behaviour expertise enables smart decision making through a choice of outputs based on budgets and needs from graphs, 2D and 3D animation as well as virtual reality to engage stakeholders. Using our bespoke modelling and simulation software TransvisionAiR® teamed with our vast experience, we create simple and clear aviation models providing practical recommendations for investment decisions and sustainable and efficient operations.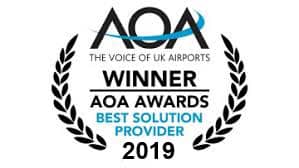 Our Experience
Located at Heathrow, AiQ has been continually engaged with the airport for the last 14 years. Our experienced team has been involved in the demand, efficiency and capacity assessments of all major terminals, baggage and apron developments at Heathrow airport since 2006.
Our proven track record extends to other worldwide highly constrained airports such as Schiphol, Sydney, Hyderabad, Budapest, Bristol, Manchester, Gatwick, Stansted and Leeds Bradford. View our case studies here. Whether you are a 1 million passenger regional airport or a 150 million passenger hub we can help.
Issues concerning passenger flow, baggage handling systems, check baggage screening, ground handling operations, scheduling, and much more have been solved by us in many international airports.
Our History
AiQ Consulting was born from a successful business management consultancy advising multinationals & SMEs for 30 years since 1989.  AiQ founders, Adrian Todd and Derek Allen have advised businesses through three major recessions helping them apply lean processes and make operational efficiency savings. This experience has been transferred to the rest of the team through mentoring and personal development to create a strong and commercially aware team. This business experience, teamed with our in-depth airport operational knowledge is the perfect combination to assist airports through complex problems and challenging times.
We believe AiQ Consulting is the right solution:
We are practical airport operational experts
Our agile consultancy service provides swift responses to project demands
Cheaper than traditional in-house planning teams
And, most importantly, – we are trusted
We improve efficiencies and reduce costs for clients
We are skilled experienced consultants with the ability to engage with complex requirements and stakeholders
TransvisionAiR® demonstrates clarity on airport designs, enabling efficient decision making