AiQ delivers expert consultancy services, tailored to individual client's goals, budgets and complex requirements. We find the most effective methodology to solve the complex problem, particularly around operations, resilience, fluctuating demand and capacity.
We have a genuine desire and commitment to achieve the best, lasting outcome for our clients. We know how to manage a project and put in place creative, efficient solutions. Our team quickly understand a brief, engage with all stakeholders and see projects through to the end.
Integrating with other Airport Operations, we solve your airport problems quickly and innovatively, giving you peace of mind. We optimize passenger experience, protect your operation, maximize capacity and reduce risk.
Process Model
We diagnose, develop solutions, implement and oversee live operations as part of our service.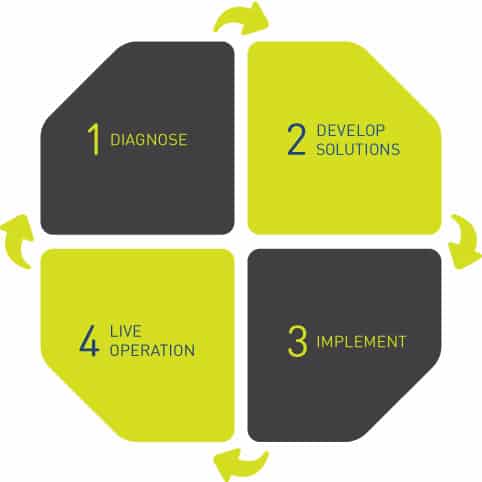 Create clear and concise brief response based on our experience and knowledge
Understanding high level goals and detailed requirements driven by technical efficiency, safety, security and environmental sustainability
Identification of cause and nature of any capacity problem
Data gathering and analysis
Dedicated project resource to ensure end to end continuity
Determine the most effective methodology to solve the problem with using an appropriate level of modelling - a simple pivot graph, 2D bespoke model or fully 3D Virtual Reality
Our airport planners create bespoke models using TransvisionAiR® to generate and validate options
Presenting solutions using TransvisionAiR® and other tools to clearly demonstrate and prove the proposed change or solutions to all stakeholders
Our airport planners provides innovative solutions to define process and infrastructure needs.
Structured design process with transparency client involvement
Seeing the project through to the final stages
Liaising successfully with the relevant stakeholders for project implementation
Ensure continuity using implementation plans to manage the process
Manage specialist providers
Working with clients, operators, suppliers and all stakeholders to manage change in a proactive manner
Presentations, one to ones, training and workshops ensure full engagement and consensus with stakeholders
Ongoing testing
Training, documentation and familiarisation
Commissioning
Develop commissioning and testing scripts
Manage testing and commissioning process to stakeholder acceptance
Project lifecycle and efficiency review
Understanding the input of future operational change
Uniting all stakeholders for continued operational success
Overall management to ensure operational readiness
Increase capacity
Improve passenger experience
Protect your operation
Improve efficiency and save money
Improve Arrivals Delivery Performance (ADP)
Improve Minimum Connection Times (MCT)
Increase Sustainability and Operational efficiency
Reduce your Operational cost and Cost per Bag
Get Consensus with stakeholders quickly
Save time with efficiently solved capacity problems
Gives you a sustainable solution
Improves resource utilization and operation resilience
Peace of mind that your goals will be met