Efficiently manage your operational recovery with our demand modelling tool,  Airport Recovery Tool, ARTΔ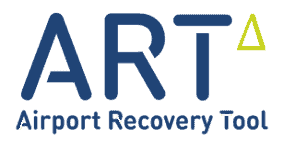 Reopening your airport following the COVID-19 pandemic brings new and ever-changing flight schedules, presenting unprecedented challenges and complexities to your entire operation. Our solution is the Airport Recovery Tool, ARTΔ.
Fast, simple and flexible, this tool quickly provides airport managers with a holistic operational vision across 13 key processes including new health screening and social distancing processes for fast and smart decisions in managing your changeable daily resource requirement.
Calculated from your flight schedules, the tool offers a range of reportable data in simple excel reports for fast distribution to team. It rapidly determines passenger and baggage hourly flows, resource and equipment needs acros the entire operation and predicts queue lengths and waiting times all within the same tool, optimising daily operational costs and supporting the safety of passengers.
Easily configurable, ARTΔ comes with a standard set of assumptions for airline, aircraft, passenger, baggage & GSE to allow for rapid deployment. Assumptions include Level of Service for queue lengths & waiting times, passenger & baggage profiling, segregations, and time of day modelling, all of which can be configured for different Social Distancing & Return to Work requirements.
With free basic set-up, ARTΔ can be provided as a license for internal use or as a cost effective remote service by our world class airport planning team.
In partnership with airport focussed architects, medical service providers and modular building solution providers, AiQ can model, set and operate health screening solutions to airports worldwide. Find out more here. 
13 KEY AIRPORT PROCESSORS
1. Health Screening
2. Check-in
3. Departure Baggage
4. Boarding Gates
5. Emigration
6. Passenger Security
7. IDL
8. Immigration
9. Baggage Reclaim
10. Aircraft Stands/Gates
11. GSE
12. ULD
13. Runway
Arrivals, Transfer & Departures
Passengers, Baggage, Vehicles & Aircraft
Segregations
Time of day
Flows
Queue lengths
Waiting lengths
AIRPORT PLANNING SERVICE
For airports who wish to outsource your strategic and operational needs, AiQ is offering a cost-effective Airport Planning Service using our Airport Recovery Tool ARTΔ. Our award-winning airport dedicated team can provide a better, cheaper, faster, scalable, and more flexible planning service than traditional in-house planning teams. A new airport world requires a new approach. Find out more about our Airport Planning Service. 
Assists operational cost optimisation
Provides high level management decision support
Assist with daily, weekly and seasonal decisions
Resources and staff levels against LoS
Visual impact of changing demand
Safety and confidence of passengers
React quickly to sudden business changes
Identify constraints before they occur
Provide input for stakeholder acceptance
Operational efficiency across the entire airport