Maximise your airport's competitive advantage with intelligent airfield planning.
AiQ helps you to keep pace with existing and future aircraft demands by optimising your airfield capacity. Our expert team analyse, model and provide improvement recommendations for all aircraft traffic surfaces including runways, taxiways and stands. We utilise and analyse current and future flight schedules to carry out capacity assessments, and risk assessments and validate future infrastructure plans to improve your airport's competitive advantage.
Specific Airfield Services
Flight Schedule optimisation
Runway, Taxiway and Stands Optimisation and Planning (using A-CDM process)
Aircraft Fleet Planning
Aircraft Turnaround Planning
Integrated Airfield Planning
Carbon Reduction Analysis
Improve airfield efficiency
Reduce ground/air delay
Maximise stand and infrastructure usage
Match infrastructure development to long-term demand
Protect your operation and reduce risk
Consider implications holistically – within airfield, terminal, apron or airport operations
Adapt to changing passenger demands with intelligent airfield capacity solutions
Case Studies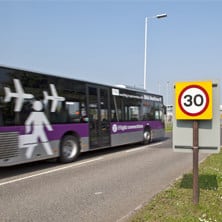 Modelling fluctuations and variations of activity at Heathrow to preview changes before they happen.
Read more »