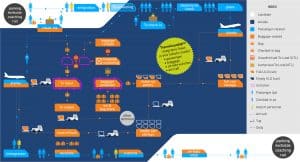 Baggage Handling Systems (BHS) present a multitude of challenges to airports and their stakeholders. Whether you are a hub airport or not, the impact on baggage flow and passenger experience means that challenges in BHS must be tackled to maximise efficiency and capacity.
Increasing passenger numbers, as well as the passenger's desire for greater control around baggage and check-in services also means a rise in self-service solutions, such as kiosks and bag-drops, now sitting alongside existing systems. As well as increasing capacity in-line with demand and offering passengers a better experience, they also provide challenges and opportunities for Baggage Handling Systems.
What is a Baggage Handling Process?