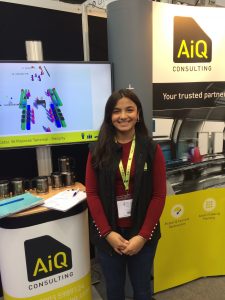 This month the AiQ Consulting team has welcomed Anushka Padhye, a Cranfield University MSc Management student who has joined us for three months  to carry out an academic research study using real life examples and data.
Cranfield University is a world-renowned centre for Master degrees, particularly Airport Management. AiQ Consulting have always enjoyed strong links with the university. As well as sharing expertise with the school and taking part in their career fairs for MSc students, three of our team are alumni of Cranfield University. Centre for Air Transport Management (CATM) and School of Management both have a reputation for producing outstanding talented individuals, and Anushka has been handpicked by the tutors for this project with AiQ.
Anushka will be looking at trends in Ground Support Equipment, including electrification, GSE pooling, blockchain technology and more. Her project will assess the current use of Ground Support Equipment at London Heathrow (LHR) and other airports and the impact of disruptive technologies in the future. This is extremely important to our work at AiQ, as we are constantly looking for and analysing new technologies and their impact on airports. By working with Anushka and Cranfield University, we can join our respective skills and experience to fulfill a need for airports to consider their current and future use of Ground Support Equipment. Disruptive technologies, including electric vehicles, drones, automated handling, autonomous vehicles and more, are well suited to the general innovative culture that airports need to foster in order to stay competitive.
The challenge for London Heathrow is to be more efficient in the use of Ground Support Equipment, the equipment used to service the aircraft between flights. With a major programme already underway to electrify all Ground Service Equipment at LHR by 2020, this will mean understanding what equipment is currently diesel or petrol, how old equipment will be phased out and specifying what Disruptive technologies should be considered in the next phase of Heathrow's progression.
Anushka will be looking at the accuracy of the current database of Ground Support Equipment and Ground Handlers, the profile and allocation of Ground Support Equipment needed by each aircraft using London Heathrow and the implications of Disruptive Technologies and including them in our simulation work and planning.
This study also links with our current Heathrow-wide GSE study to improve future safety, environmental and performance of ramp equipment with the electrification and automation of HoS (Head of Stand), arguably the most comprehensive attempt in the world to create a totally electric fleet of GSE in an airport.
As we look forward to working with Anushka over the coming months, AiQ Consulting continues to be a proactive force in airport innovation, working with industry experts and future leaders to be the best in the world. Our links with Cranfield University will strengthen this position, to the benefit of clients and airports worldwide.