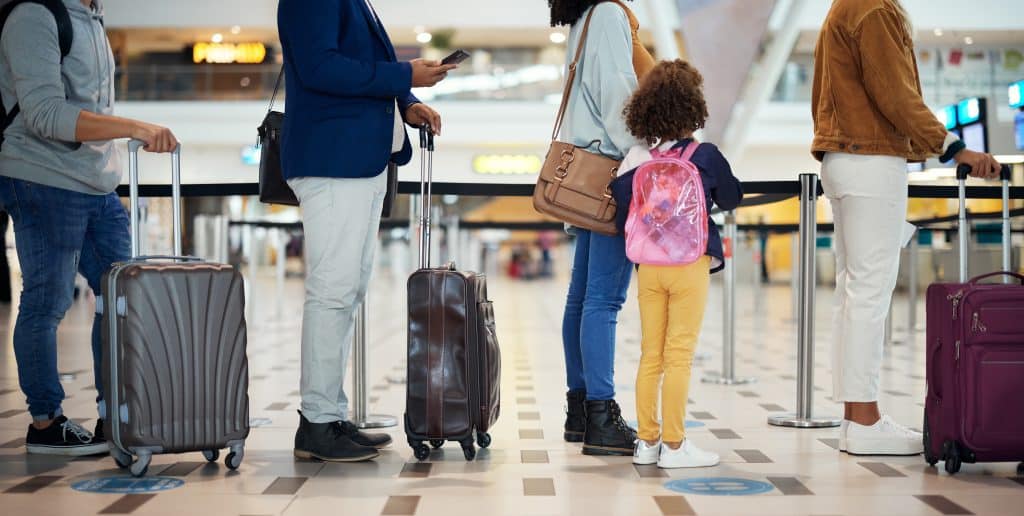 There are plenty of reasons to be optimistic as the aviation industry moves towards the end of 2023, not least that it is expected to finally reach a profit this year for the first time since the pandemic.
ACI World Airport Traffic Forecasts 2022-2041:
Due to the COVID-19 pandemic, global passenger traffic dropped from 9.2 billion in 2019 to 3.6 billion in 2020, and then recovered to 4.6 billion in 2021, and 6.5 billion in 2022. Over the next five years, traffic is expected to recover from 4.6 billion to 11.0 billion. (See chart below) This equates to a Compound Annual Growth Rate (CAGR) of 19.0% over the 2021–2026 period.
It is predicted that in 2024 global airport passenger traffic will return to the volume observed in 2019. Passenger traffic worldwide is expected to reach 19.3 billion in 2041 and 23.9 billion in 2050.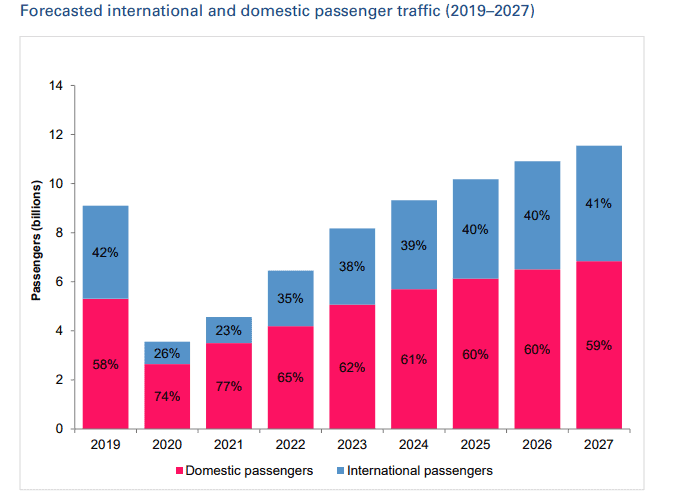 Global Passenger Traffic 2019 to 2027 split by Domestic and International
Source: ACI, World Airports Traffic Forecasts, Executive Summary 2022-2041
Airports and stakeholders have worked hard this year to make sure there wasn't a repeat of the issues of the summer of 2022 such as the unacceptable queues and long delays. There was a clear improvement this year and no question that the passenger experience was a lot smoother this time round. However, capacity is once again an issue, and this blog explores the key areas where AiQ Consulting is currently working to help airports improve their capacity.
Improving capacity
Many airports have little room for physical expansion and sometimes limited resources to accommodate the predicted growth in passenger numbers, but there are still several ways in which they can prepare for the increased amount of passengers and provide some much needed extra capacity next year and beyond.
Maximising automation
A big priority for airports should be planning for automation to improve operational efficiency and to build resilience into their operation. In the coming years automated technology and a 'digital journey', particularly preferred by younger travellers, are going to be a critical factor in providing increased capacity.
The move to online check-in – particularly with mobile phones
The move from service counters to automated systems, mobile check in kiosks and self-serve bag drops
Multi Airline check-in
Biometric systems at Border Control
AI and 5G enabling autonomous robots, vehicles and mobility equipment to support passengers and staff
Smart tugs and baggage carts on the ramp
New Security Screening – Computer Tomography (CT)
Originally developed for the medical sector, CT-based scanning produces high-definition, 3D-rotatable imagery. The CT technology will allow the operator to make more accurate assessments, minimising false alarms and improving efficiency. It will also reduce overall screening time by minimising touchpoints and unnecessary interaction between passengers and security staff.
Regulation changes
The CT technology will allow the rules about taking liquids and large electrical items through airport security to be relaxed in June 2024. Passengers will be able to leave liquids and large electrical items in their cabin luggage as they go through security, reducing hassle for passengers and speeding up the whole process. Airports need to make sure their screening equipment is upgraded, and their processes are ready for the change in regulations so that they can benefit fully from the CT technology.
Recruitment and retention
Hiring has been a relatively slow process, compared with the pace of recovery in travel demand and although the situation is much improved, the industry still needs to focus on recruitment and retention. In the recent SITA report 'Mega Trends' they predict that, 'Automation will allow operations to be scaled, enabling a more agile workforce, and employees' value will shift to highly skilled, empowered decision makers and service orientated roles. Peaks and troughs of work will be addressed through digitisation.'
Airlines and airports need to ensure everything is done to retrain and develop their staff for this new environment. Staff turnover must be minimised and measures put in place which engage and reward staff to keep retention high and reduce the costs that come with staff churn. Creative ways of recruiting and retaining personnel need to be explored that can ensure a steady pipeline of highly trained staff for the next decade and beyond.
In conclusion, airport capacity is again an issue. The predicted growth in passenger numbers over the next few years is an opportunity for airport operators and stakeholders to increase profits but it also represents a risk if airport infrastructure is unable to cope with increased traffic. Our award winning team of operational and analytical experts are dedicated to analysing, modelling and optimising every aspect of an airport. Specialising in airport capacity, we are trusted to realise capacity and solve complex operational challenges. For more information about how we can assist you with any of your challenges in 2024, contact us today.