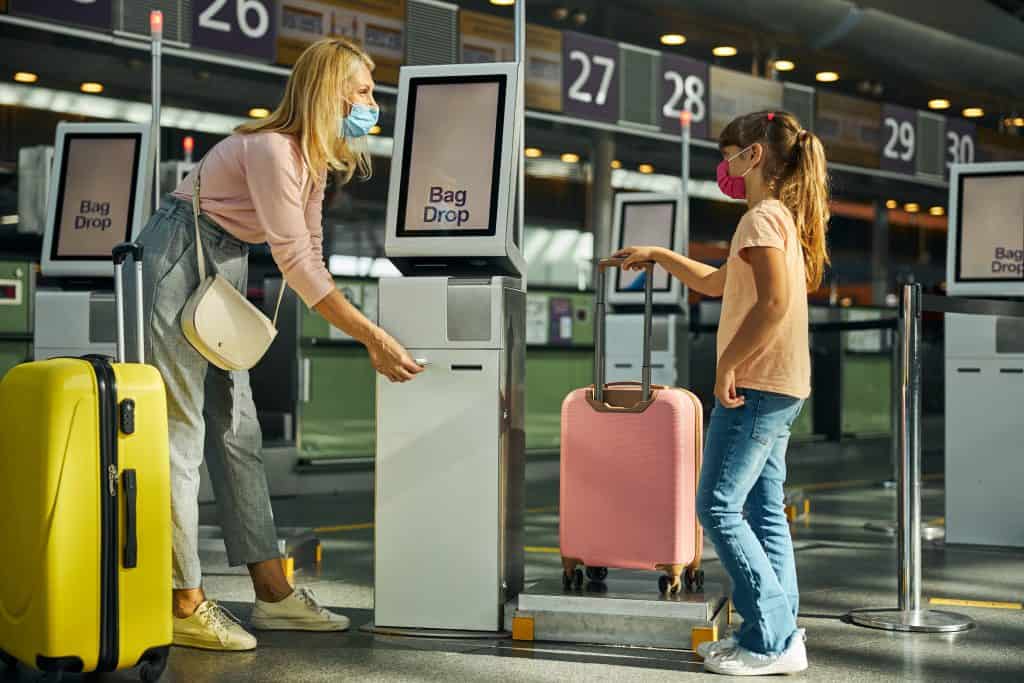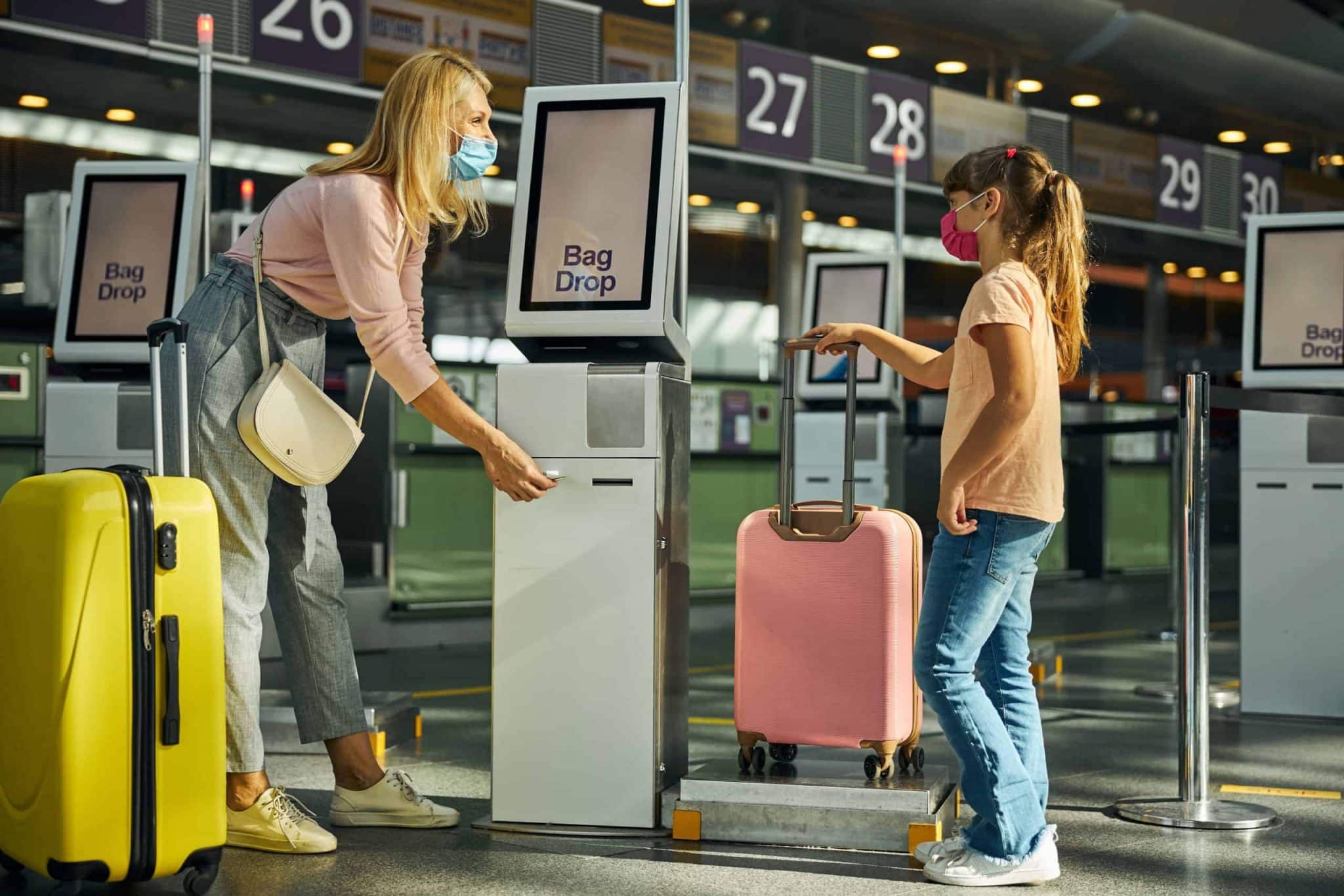 As airports implement automated processes such as CUSS, SSBD and CUTE we want to take a look at the direction automation is moving in (see graphic below). Star Alliance has defined an approach to newer technology solutions that are now being introduced which focuses on:
Moving it upstream
Doing it faster
Doing it smarter
We discussed 'Moving it upstream' in our last blog, we will cover 'Doing it faster' in this blog and 'Doing it smarter' in the final blog of this series.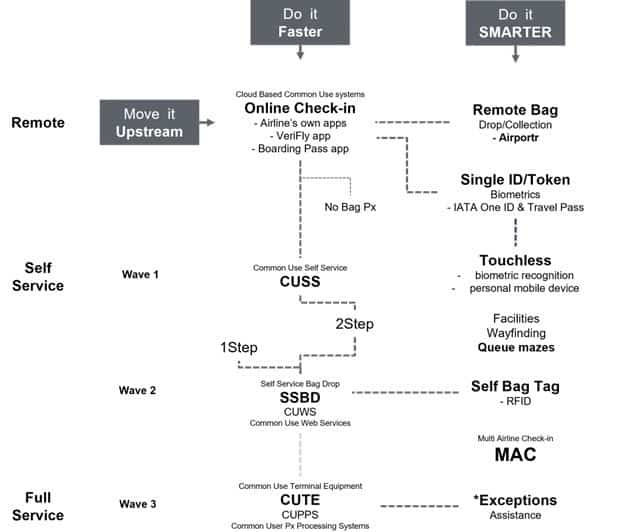 Automated Check-in
The current trend is to encourage passengers to check-in online and use automated check-in processes at the airport. By allowing the customer to take charge of the process and perform the activities traditionally undertaken by airline agents, including baggage labelling and baggage drop, the airline can improve passenger satisfaction, performance, reduce resources and therefore cost. In addition, the airport benefits from improved capacity whilst maintaining its' footprint and increasing passenger flow.
Anecdotal evidence suggests that younger age groups adopt online/mobile and the use of apps more readily than older generations and that older and premium passengers still prefer a personal full-service check-in. A recent survey by AiQ also established that airlines serving emerging markets have passengers that still prefer a personal full-service check-in rather than the automated approach, whether online or at the airport.
COVID-19
COVID changed everything. Check-in reverted to a highly manual full-service process to allow for rushed, unautomated documentation requirements from Governments to check passenger nationality and vaccination certificates. Different countries required different documents and the whole process became very complicated.
As of the final quarter of 2022, most airlines can now handle these documents through their online systems or through independent apps such as VeriFLY. Generally, the content of the document is not being checked, but rather its' existence. Moving forward we expect any new document checks to automated.
Recent AiQ check-in surveys across a range of airports – hub and regional – shows that COVID has accelerated online and mobile check-in with most airlines achieving 70% or above.
Automation
With airlines achieving high levels of online/mobile check-in, current Common User Self Service or CUSS kiosk installations at airports, for a check-in only process, will start to be phased out.
With passenger check-in more or less automated the next challenge is to automate baggage check-in. New types of CUSS kiosks are being introduced with baggage labelling and excess baggage payment to support a Self-Service Baggage Drop or SSBD approach.
SSBD
There are two types of SSBD – one and two step:
One-step is where passenger and baggage check-in are done at a dedicated SSBD point, which is also the entry point to the baggage system. This is normally an adapted conventional check-in desk, which may fall back to full-service use when contingences such as COVID occur.
In a two-step process the passenger can check-in and print their baggage labels at a CUSS kiosk on the concourse. The passenger then takes the bag to an SSBD point to input into the baggage system.
AiQ survey data from a number of airports shows that two-step SSBD generally has faster passenger throughput times than one step. By splitting the process into two parts each step is shorter.  Using Lean principles both steps are shorter therefore improving the passenger throughput time and resulting in more capacity.  Two step utilises the concourse space more efficiently and less baggage inputs may also be required.
Some airlines prefer one-step SSBD as this simplifies the customer choice and improves customer experience but sacrifices capacity by utilising more baggage system inputs.  In most airports baggage system inputs are a scarce and limiting resource.
In summary both one and two step SSBD, provide significant advantages over conventional full-service check-in.
Multi-Airline Check-in (MAC)
SSBD has the additional advantage of fully enabling Multi-Airline Check-in or MAC, which allows passengers to check-in for any airline at any kiosk or baggage input point, further improving passenger experience, throughput and therefore capacity. This will be discussed further in our next blog – Smarter Check-in.
Drivers for change
Clearly all airlines can see the efficiency and cost saving that automation brings, but it does not work for all, in all situations.
AiQ survey data shows that the passenger profile of an airline has an impact on take up of SSBD. We have observed that full-service airlines wish to preserve the premium products as a personal service.  Also, airlines from emerging economies feel that their customers may not travel sufficiently often to confidently use automated systems and they often have complex travel arrangements, which can be problematic with automation.
Timing for the introduction of automation is also an issue in the last quarter of 2022. Many airlines seem to be sceptical about restarting or implementing automation creating yet more change as they emerge from the impacts of COVID.
Exceptions
Of course, automation is not yet a panacea and there are still exceptions that need to be managed on a full-service basis, which may include:
Passengers requiring assistance
Complex transfer passengers
Minors
Out of gauge baggage
Non-standard documentation check such as health tests and health insurance
Re-pack/excess baggage payments
Re-ticketing and payments
Firearms
Clearly some of these activities are being automated, but for now will still require human intervention. This will be discussed further in our next blog – Smarter Check-in.
IT as an enabler
10 years ago, the discussion was about the constraints of legacy IT systems to enable the move from full-service desks. That argument has now moved on and IT systems have enabled a future with online processes and apps. Airports and the airlines have had to collaborate closely with the drive for change coming from either or both stakeholders. The airlines have been driven by the need for efficiency and realising greater flexibility of their resources while the airports are focused on maximising their capacity while maintaining their footprint.
Do it Smarter
In our next blog we will look at the trends in airport automation in the future and how it will make check-in smarter and what it means for airports and stakeholders.
At AiQ, our award-winning team of operational and analytical experts are dedicated to analysing, modelling and optimising every aspect of an airport. If you would like to find out more about automated technology and how it could benefit your airport please do get in touch.
You can read the first blog in our Airport Automation series here.