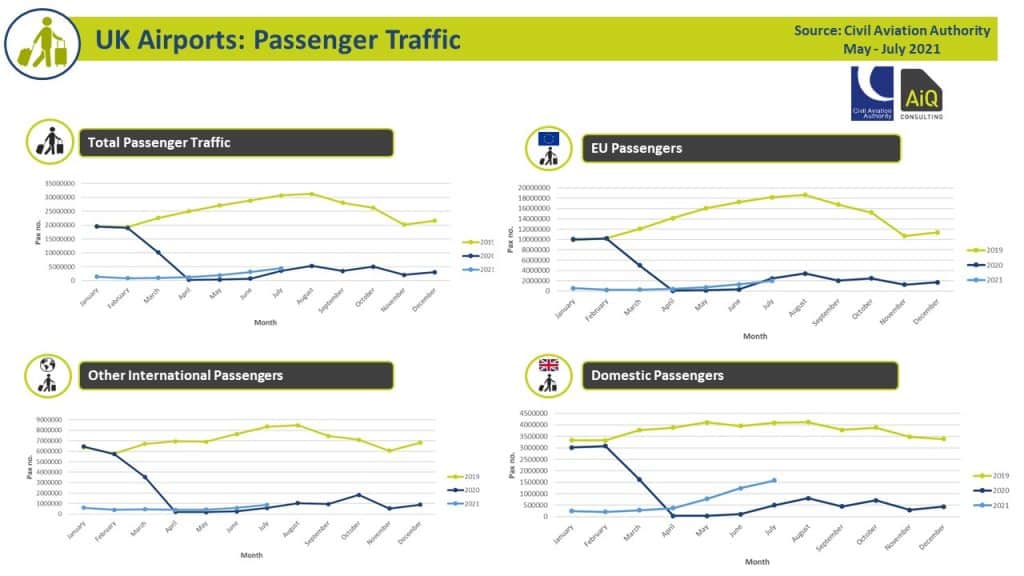 The UK Civil Aviation Authority (CAA) has published UK airport statistics for the second quarter of 2021 showing a slow gradual incline of activity for ATM and passenger traffic. Read further to see the surprising dip in cargo activity.
To clearly see the UK airport activity patterns across the months, AiQ has visually represented the Civil Aviation Authority (CAA) activity data. Our airport planners modelled the months April to June covering ATMs, passengers, and Cargo for 51 UK airports. July data has been plotted on the graphs but please note there are several small regional airports to submit their data into CAA. Commentary on July's data will be published next month when we have a full set of results.
To highlight the dramatic effect COVID-19 has had on the aviation industry we include comparisons from 2019 and 2020. Understanding how the activity is changing month by month allows airports to flexibly plan their operations to passenger forecasts and prepare for the autumn and winter months. Will passenger and ATM traffic continue to rise over the summer months?
AIR TRAFFIC MOVEMENTS (ATMS) APRIL – JUNE 2021
The total Air Traffic Movement (ATM) graph above shows activity levels in Q2 2021 were 130,074 this is almost double compared to Q1 activity, but it is a modest gain compared to 2019 levels before the pandemic, down 79% compared to Q2 in 2019. However, what it does show is a positive however small sign of recovery with a gradual incline since quarter 1. This latest quarter saw several updates to Government travel guidance with international travel started to reopen from 17th May with the 'traffic light' system.
UK AIRPORT PASSENGER TRAFFIC APRIL – JUNE 2021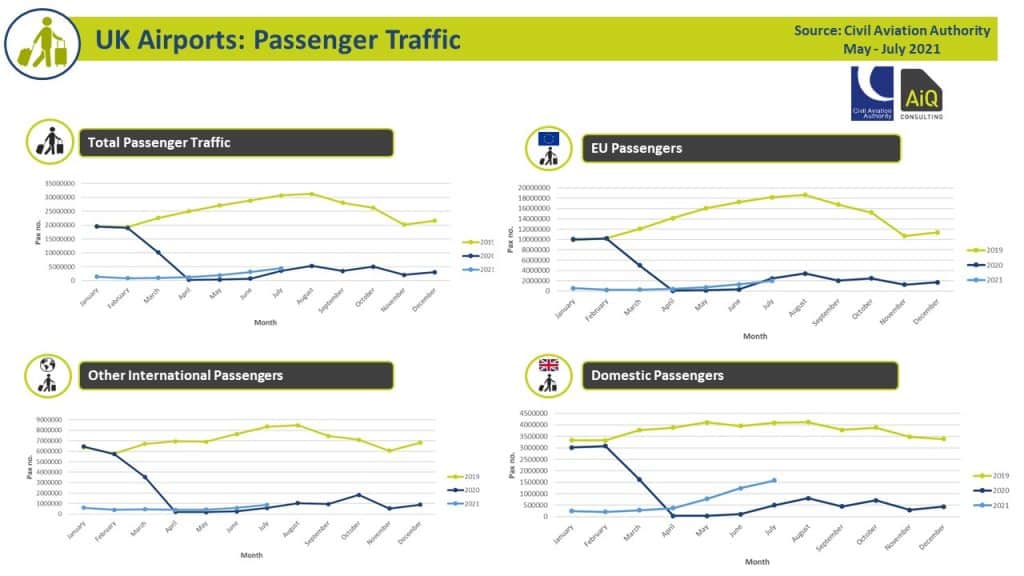 Passenger traffic follows a similar pattern to ATMs. In Q2 this year, 6,315,426 (million) passengers travelled through UK airports, down 92% compared to Q2 in 2019. Domestic passengers contributed greatly to the overall increase in passenger activity at UK airports with a sharp increase in demand from April to June. This is a credit to the successful vaccine programme rolled out in the UK allowing more people to safely travel.
UK AIRPORT CARGO TRAFFIC APRIL – JUNE 2021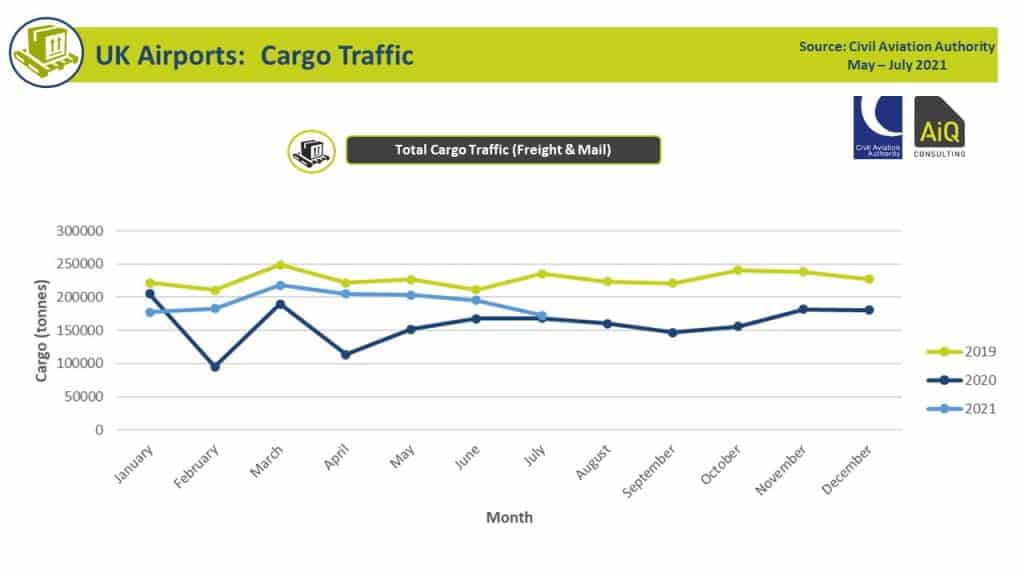 The plotted line graph of cargo activity inclusive of freight and mail shows an interesting decline from May and into July. Levels of activity were down 7% compared to the same period in 2019. July 2021 shows an even further decline in cargo activity.
Globally, it was a strong air cargo performance in June 2021 according to IATA Air Cargo market analysis. Industry-wide cargo tonne grew 9.9% compared to June 2019. Air cargo currently has a competitive advantage over shipping due to its speed, decreased fares, and recent difficulties in the shipping supply chain due to China port congestion caused by the Suez Canal closure. Unfortunately, the UK cargo has not followed this overall industry-wide trend but is not alone. Africa, Asia Pacific, Europe, and Latin America cargo also show flat or volatile volumes and limited belly capacity.
FLEXIBLE AIRPORT PLANNING
The UK airport activity, with exception of cargo, is moving in the right direction but recovery remains slow.
Passengers are keen to fly so we should see a continued incline of activity during the summer months as the UK government introduces more countries on the green lists. Airports need to be ready with their airport operational planning. To build back better, airports need adaptability and efficiency to build a sustainable airport future. Efficiently scaling up infrastructure, people and resources as travel resumes are critical for airport recovery.
Using our Airport Recovery Tool ARTΔ, AiQ operational experts assist airport managers with fast and accurate analysis across the entire airport to make smart operational decisions. ARTΔ enables airport planners to use flight schedules to provide a clear holistic vision of 18 airport processes to rapidly determine and optimise passenger, baggage, and cargo flows, resource, and equipment.  To find out how AiQ can help your airport operational planning to scale up when the time comes, contact us here.